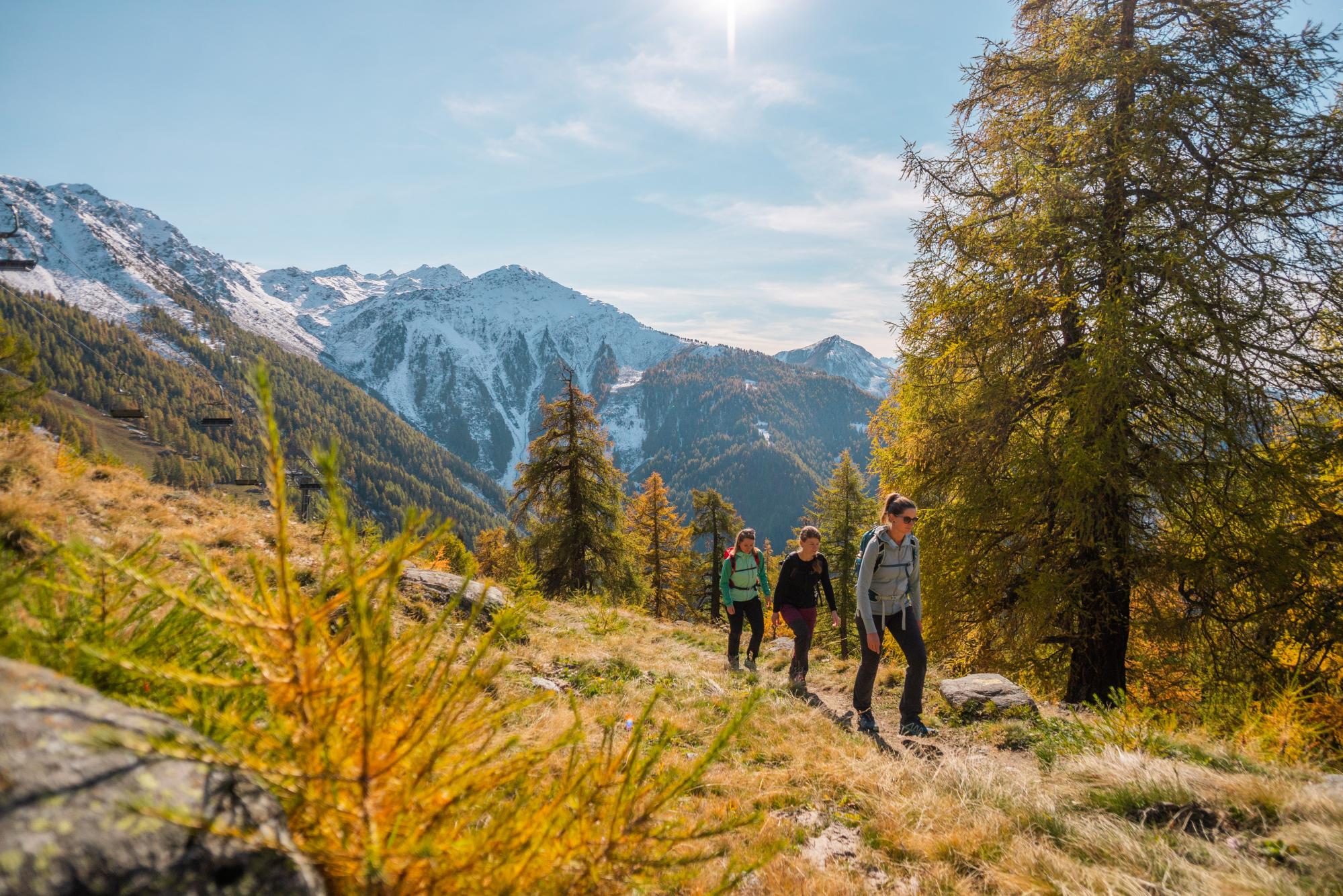 Nendaz, hikes with a thousand and one colours!
News
Nendaz is collaborating with the CFF, RailAway, RegionAlps and CarPostal to propose to all throughout the autumn, from families wishing to take a gentle stroll to hiking enthusiasts , stunning itineraries in the heart of pristine natural surroundings.
Autumn is the ideal season to enjoy the 250 kilometres of mountain trails in the region of Nendaz, a destination in the heart of the Valais overlooking the Rhone Valley: temperate climate, exceptional sunshine, landscapes in a thousand shades from green through to orange. It is easy to reach the departure points of a number of itineraries via public transport, first by train to Sion and then by bus to Haute-Nendaz with about fifteen daily connections. The SBB, RegionAlps and CarPostal have joined forces to offer low cost fares (price information and online purchase of tickets and day passes at www.cff.ch/nendaz). Are you looking for breathtaking views? A fun themed trail? A gentle stroll along the water's edge? An opportunity to enjoy some uphill itineraries? Whatever your level and desires, there's a hike to suit you. Here are four pleasant escapades, selected from our wide choice of walking itineraries.

PANORAMIC PATH
With breathtaking views, photo spots, educational information boards and games, this easy walk promises a fun time for everyone.

HIKE ALONG THE BISSES
The bisses are ancient irrigation channels that allow water to be diverted from the rivers to water the crops located on the mountainside. They are true historical relics built in Nendaz between the 15th and 19th centuries and bear witness to the relentless struggle of the people of the Valais against drought. They are also very popular places for hiking. Indeed, relatively flat, shaded and bordering the water, they are particularly pleasant to walk along.

A DISCOVERY TOUR OF THE HUNDRED-YEAR-OLD LARCH TREES
This hike between Tracouet and Haute-Nendaz allows you to get up close to the majestic Balavaux Larch trees! Among these centuries-old trees is the largest larch in Europe.

ON THE SUMMIT OF THE DENT DE NENDAZ AND ITS MOUTAIN RIDGES
More athletic walkers who are not prone to vertigo can enjoy this aerial hike.
Published the